Renfrewshire Family History Society was founded in March 1999 and has Charitable status.It exists to promote the study of Family History, based on the County of  Renfrewshire encompassing Abbey Parish, Cathcart, Eaglesham, Erskine Eastwood, Greenock, Houston & Killellan, Inchinnan, Inverkip, Kilbarchan, Kilmacolm, Lochwinnoch, Mearns, Neilston, Paisley, Port Glasgow and Renfrew.
New Research Facilities at Paisley Abbey
We are now in Paisley Abbey, Cathcart Aisle on Tuesdays & Thursdays from 10am – 11.45am. Both days are manned by RFHS volunteers who will help anyone in their search for family.

Some of our volunteers at our 'home' in the Abbey – a welcoming bunch!
Projects
We are currently transcribing Asylum Warrants for 'Smithston Asylum, Greenock'. This happens at The Mitchell Library, Glasgow.
Meetings
The Society holds regular Meetings throughout the year covering topics of interest to family historians. Meetings are held in the Paisley Museum, High Street, Paisley.

The next meeting is our Annual General Meeting which will be held on Thursday 19th May at 7.30pm.  Once business has concluded, we shall welcome our guest for the evening, Mr Don McPherson, a well known, highly respected and experienced cameraman.  Over the years he has captured many memorable occasions, and he is delighted to present for us a special showing of his DVD covering the Unveiling & Dedication Ceremony of the Woodside First Aid Post Memorial Cairn, on 6th May 2012.   This year is the 75th anniversary of the disaster, one the bleakest days in Paisley's history with the loss of 92 lives.

At the end of the evening everyone will have the opportunity to chat while enjoying a biscuit (or two) along with a cuppa of Barbara's delicious tea or coffee, together with a good old blether.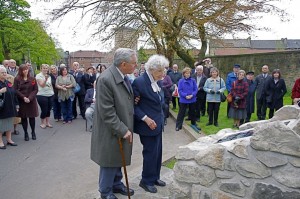 Jenny Enterkin, now the only living survivor of the Woodside First Aid Post Disaster, with Jim Smith at the Memorial Cairn on Sunday 6th May 2012 - photograph courtesy of David Rowand
Membership is available to anyone with an interest in family history in, or relating to Renfrewshire, on payment of the annual subscription. Membership entitlements will include Society newsletters and guidance with Family History Research.

SelectMembershipfor details of how to join our Society

Journals

The Society publishes a Journal twice in the year, which is issued to its members without charge. Articles of interest are published as well as records of meetings. Contributions and ideas are always welcome.

Members may also include their interests which is published in our Journal free of
charge.

SelectJournal 11to view a sample of one of our Journals.