PAISLEY PARLIAMENTARY ELECTION 1868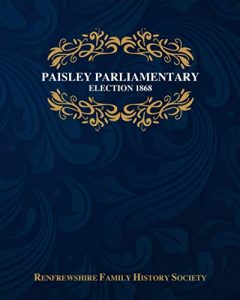 David Rowand, our Honorary President, has the original book containing the Voters' Roll for Paisley at this time, immediately after the passing of the Second Reform Act which enfranchised a greater part of the male population of Great Britain and Ireland.

The Ballot Act, which introduced the secret ballot had yet to be passed so the voter's preference was marked against his name, giving us an unique record.

Fifty five pages which hold details of just shy of three thousand five hundred names, have been scanned from the original. So if your forefathers qualified to vote, you can see whom they chose in this three-way contest.

Also included, is some of what was being discussed at the ward meetings. The newspapers reported these in detail and the candidates' views were expressed and questions were asked from the floor. One hundred pages in total.

There was laughter, jeering, pushing and shoving and dissatisfaction; same as ever.

Available at £10 from Amazon.
Order from Amazon