Renfrewshire Family History Society was founded in March 1999 and has Charitable status. It exists to promote the study of Family History, based on the County of  Renfrewshire encompassing Abbey Parish, Cathcart, Eaglesham, Erskine, Eastwood, Greenock, Houston & Killellan, Inchinnan, Inverkip, Kilbarchan, Kilmacolm, Lochwinnoch, Mearns, Neilston, Paisley, Port Glasgow and Renfrew.
Latest

26th November 2021 – Meeting Syllabus for Session 2021/2022
All Meeting Details including Zoom links here
Next Meeting 9th December 2021 at 19.30 (GMT)
Jill Williams, "Moving on with Irish Records"
In this follow up talk she will take us further forward with Irish records, paying particular focus on Northern records & free websites for Irish research. She will be explaining Irish land divisions, giving some tips for working with Irish civil registration, considering land records including Griffiths Valuation – the key 19th Irish census substitute. She will look at patterns of Irish emigration to Scotland. Jill will show how names & Irish naming patterns may help and she will also give tips on how to pinpoint where in Ireland your ancestors came from if you only know they were from Ireland.
There will be a handout provided after the talk listing all the websites covered & suggesting some possible further reading.
Last Meeting 18th Nov 2021 at 19:30 (GMT)
Tahitia McCabe, "Scottish Research – Which genealogy database is best for your research project?"
What are the strengths and weaknesses of the major genealogy databases? We'll be reviewing what Ancestry, Findmypast and FamilySearch have to offer to the family historian in terms of coverage, ease of use and any extras which might be of interest. In the interests of being complete, we'll also touch on MyHeritage, The Genealogist and FreeBMD/Cen/Reg as well as ScotlandsPeople and how they complement the 'big three' databases. Case studies will show what could be found for particular research projects in each database.
Meeting on 21st Oct 2021 at 19:30 (GMT +1)
Robert Kemp, "How a Paisley plasterer defended Scotland in 1939"
Bob Kemp was born in Greenock, brought up in Renfrew and attended Paisley Grammar School before joining the Royal Air Force. Following flying training he converted onto the Mk 1 Buccaneer with the Fleet Air Arm at Lossiemouth. He qualified as a RAF weapons Instructor on the Buccaneer and amassed over 3000 flying hours in both the maritime and overland roles. He commanded the Buccaneer Peace Keeping Force in the Lebanon in 1983 receiving the Wilkinson Sword of Peace for his work. On retirement from the RAF he worked with Ferranti in Edinburgh for 17 years developing integrated navigation and attack systems for the UK and overseas markets. He was commissioned into the Royal Auxiliary Air Force as a reservist and commanded No 603 (City of Edinburgh) Squadron for eight years Later he was appointed Director Scotland of the RAF Benevolent Fund and is currently a Trustee of a number of military charities.
It is with much sadness that we have to report the death of our good friend, former Chair, co-founder and Honorary President, David Rowand. David died peacefully at home on Sunday 28th Feb 2021.
Please see the tribute to David published in the Paisley Daily Express
New

– Paisley's Fallen in the War 1914-1918 (revised and edited)
A PDF copy of this book may be viewed here.
New Research Facilities at Paisley Abbey
Due to the current issues surrounding Coronavirus and the resultant closure of Paisley Abbey we have sadly had to announce the suspension of our facilities at Paisley Abbey.

Updated 27th March 2021

We are now in Paisley Abbey, Cathcart Aisle on Tuesdays & Thursdays from 10am – 11.45am. Both days are manned by RFHS volunteers who will help anyone in their search for family.

Our volunteers at our 'home' in the Abbey – are a welcoming bunch!
Membership is available to anyone with an interest in family history in, or relating to Renfrewshire, on payment of the annual subscription. Membership entitlements will include Society newsletters and guidance with Family History Research.

Select Membership for details of how to join our Society
Journals
The Society publishes a Journal twice in the year, which is issued to its members without charge. Articles of interest are published as well as records of meetings. Contributions and ideas are always welcome.

Members may also include their interests which is published in our Journal free of
charge.

Select Journal 11 to view a sample of one of our Journals.
For those who are interested in Inverclyde: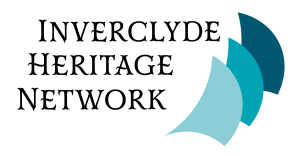 Inverclyde Heritage Network exists to share information about Inverclyde's rich and varied heritage.